Sort time entries
Timesheets can be organized to get the detailed and clear view of the time consumed in the tasks. There are two ways to group the time entries:
By Date:
Go to Group filter and select Date to view time entries date wise.
By Person:
Select Person to view time entries users wise and
By Month: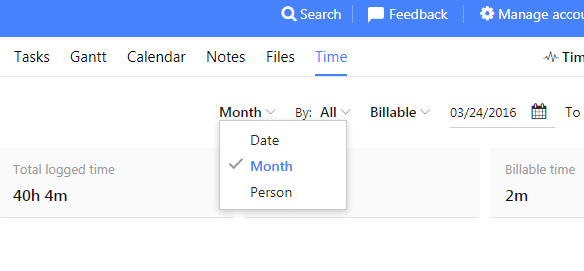 Filter time entries
By people:
To view the time entries of any particular user, you can use By filter and it will display the desired results. Here's how it works:
Click the dropdown menu besides By.
Select the name of user to see how much time he/she has devoted on tasks.

By Status:
While adding time entries, ProofHub gives you option to add status to let the project manager know which of the time entries are billable, non-billable or void. These time entries can be filtered to prepare the invoice on basis of their status. Here's how it works:
Click the dropdown menu besides Status.
Select any option like billable, billed or non- billable etc and it will display you the desired results.

By Date range:
Users can use this filter to view the time entries between specific dates. Here's how it works:
Go to Date range filter.
Select the date range and click on OK button.

Note:
By default, the time duration selected in this filter is from the first time entry you make on your tasks to the current date.
Need more help?
- Can't find the answer to your questions? Contact ProofHub Support
- Check our blog for the latest additions, updates and tips.