Manage workflow
ProofHub lets you create and manage existing workflows. There are two default workflows available in ProofHub and they are:
Basic workflow – Basic workflow consists of two standard stages to work completion i.e. To do and Done.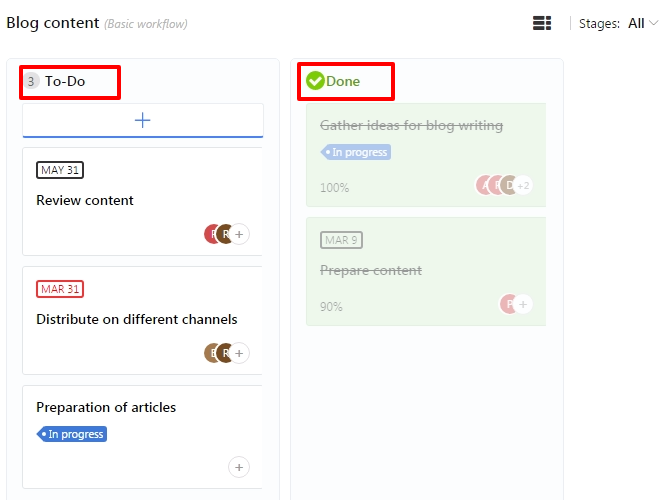 Kanban workflow – Kanban workflow is another way of keep track of all your tasks. It has three default stages: Backlog, In-progress and Complete.
However, you can always create a custom workflow like below which could suit your work process better and effortless: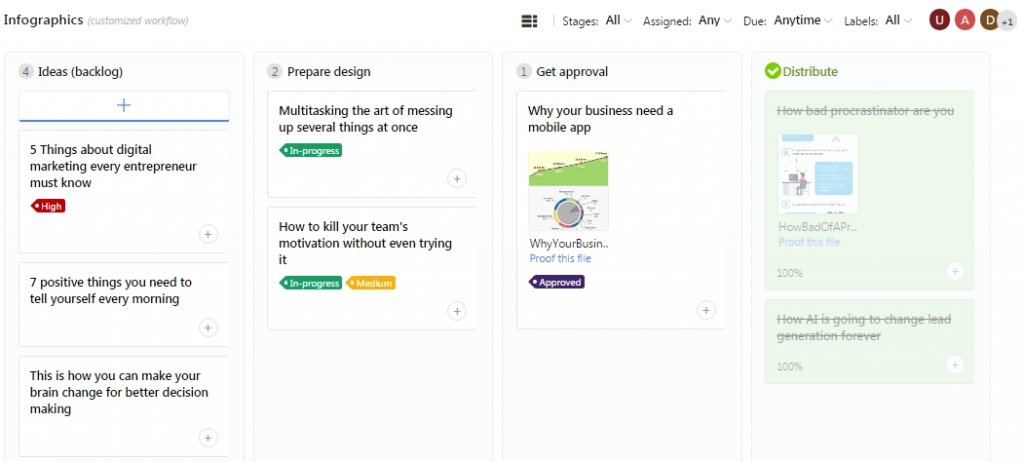 Note:
You can rename default workflows, add new stages and delete existing ones in them. Also, you can reorder the stages in default workflow as well.
You can edit default stages as well but you won't be able to delete them.
Here's how you can create new workflows or manage existing workflows:
Click Manage account dropdown available on the top bar and choose Manage workflows option.
A window will pop up from where you'll be able to see all the existing workflows and add new workflow or edit any of the default workflows.
Adding a new workflow:
Click the Add button.
Add workflow window will pop up. Give any title to your workflow.
Select the checkbox of Save as draft if you want to keep it saved in drafts only.
Hit Add button and a new workflow will be added.
Note:
Only published workflows will be available for association with a task list.
Manage Stages:

You can add stages to your workflow. Add stage name like 'In progress' etc and hit the enter key. Your stage name will be added.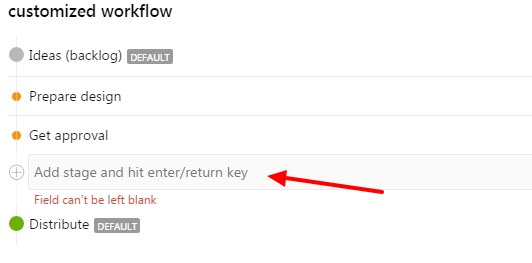 You can right click to edit or delete any stage. Also, you can reorder stages by dragging and dropping them.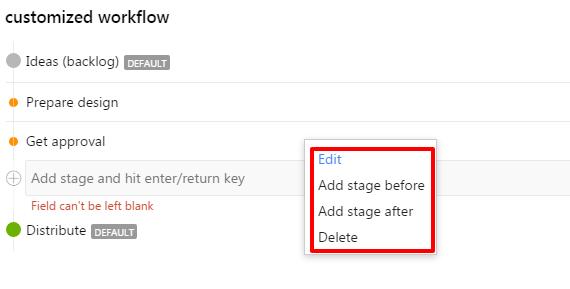 Note:
You can add as many stages as your workflow demands.
No stages can be added before To-do default stage and after Done default stage.
Change stages:
Clicking on checkbox in front of your task will allow you to change the current stage of the task.
One can also change the stage by dragging task from one stage to another in card view.
In case a subtask is assigned a stage different to the one assigned to the task then also the subtask won't appear separately in card view. It will only appear in main task's detail screen.
On assigning the last stage the task will be considered as completed and its progress will be changed to 100%.
Change workflow a tasklist:
Right click on a tasklist and select Edit to pick the workflow of your own choice. Once you change the workflow all the tasks will be moved in the first column of the new workflow.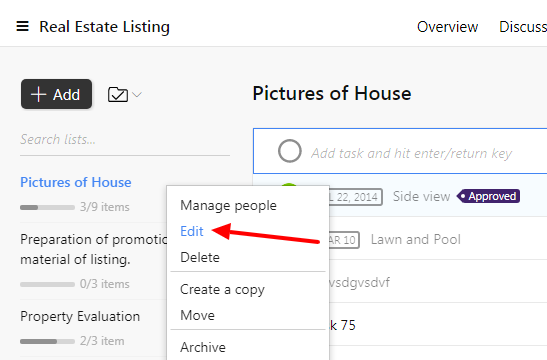 Create a copy of workflow:
Right click on any workflow for which you want to create a copy.
Choose the option of Create a copy and Hit Ok button. A copy of this workflow will be created.
Delete/Edit Workflow:
To edit/delete any workflow, right-click on it and choose the appropriate option.
A confirmation window will pop up in case of delete
Select the checkbox of Assign another workflows to the lists using the workflow and choose any alternative workflow for those lists which were associated with this workflow so all their tasks get reflected in new chosen workflow.
Hit Yes button and that workflow will be deleted.
Note:
If there is any task at any stage other than the last stage in selected workflow which you are about to delete then by choosing the alternate workflow, all tasks in that list will go to first stage of workflow.
In case you don't select any alternative workflow then basic workflow will get associated with the task list.
Need more help?
- Can't find the answer to your questions? Contact ProofHub Support
- Check our blog for the latest additions, updates and tips.