Templates
Under Projects section, the last sub tab is Templates where you will be able to view all templates that you have created into your account.
These templates will appear in tile view and if you hover to any template's tile view, there is menu icon available with which you can access the context menu options of a template.
You can manage people in it, edit any details or delete them too. You can also reuse your templates by creating a copy of them and checking the activity logs whenever required.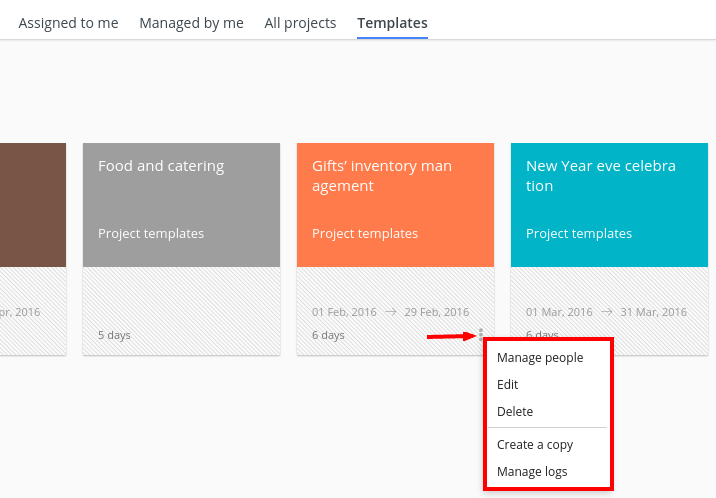 Note:
Other than account owner & admin, only those users who have access to View & manage projects will be able to view Templates tab.
When you select any template, there will be grey diagonal lines on top bar and the text Temp will be visible above template name.
Filter by assigned user and colors
There are two options available by which you can filter the templates available in Templates tab. Filter by assigned user and by color. Here's how:
Click on Assign filter and select the name of person. It will then display you all the templates assigned to that person only.
Similarly, if you click on Colors and choose any color among all then you will be able to see templates that have been assigned the selected colors.

Need more help?
- Can't find the answer to your questions? Contact ProofHub Support
- Check our blog for the latest additions, updates and tips.