Deck
Deck, the three bar icon, is a place where you can find all your projects listed under their respective categories. It provides an easy way to navigate through the projects, add projects & templates and star a project.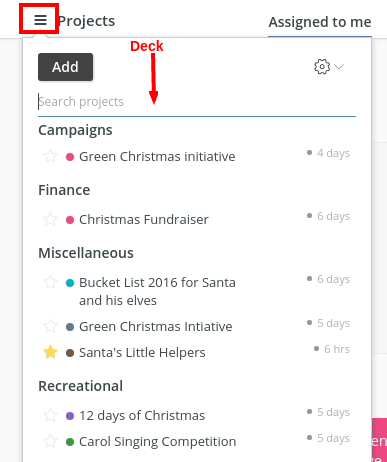 List of projects
Deck contains the alphabetic list of projects from where you can switch to different projects easily.
 All projects are grouped under their respective categories. Color code of the project is also displayed in front of the project title.
Note: If a person has access to see all projects then in deck he or she will be able to see all projects. The projects which have been assigned to him or her will have a dot enabling him or her to identify them easily.
Star a project
Click on the Star icon present on the left of project name

It will get highlighted and the project will be appear under Starred in Assigned to me sub tab present in Projects screen.
Add project and templates
Click on Add button present on the top left of the Deck.
Select if you want to add Project or Template.

Search projects
Use the search box in the Toolbar to help you with your search.
Search allows to find projects which contain the keyword or phrase you type.
Manage archive projects
Click the Settings icon in the Deck.
Click the Manage archived projects option.

 If you have access to all project then you will be taken to All projects where archived projects will appear in front of you. In case you don't have access to all projects then you will be taken to Assigned to me tab where you will be able to see archived projects which you have been assigned to.
 With every archived project you'll get two options – Restore and Delete. 

Click the

Restore

option from the drop down to unarchive the selected project. 

If you want to Delete an archived project then you can choose delete option from context menu.


Manage categories
Click the Settings icon in the Deck.
Click the Manage categories option.

Click on Add to create a new category.
To Edit or Delete a categories either right click on it or click on the menu icon present on the right side.

Need more help?
- Can't find the answer to your questions? Contact ProofHub Support
- Check our blog for the latest additions, updates and tips.