All projects
The first thing you see after logging in your ProofHub account through mobile app is "Me" view. This view contains tasks from all the projects that are assigned to you only and you need to work on "today". By default you'll get to see today's task, all the overdue tasks, tasks starting on that day, in progress tasks and the tasks assigned to none. Best thing of "Me view" is that, you get to see the tasks assigned to you in the very first look. To refresh, you need to pull down the screen.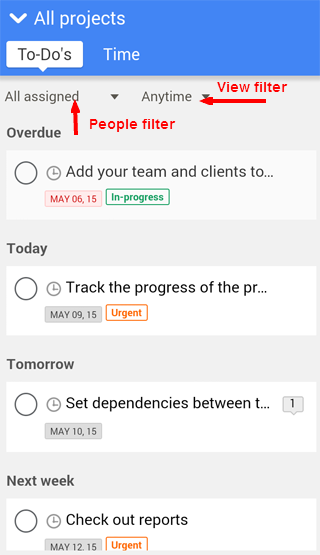 To view the task details(description, files, comments and people responsible for the task) simply tap on time on the task. To edit a task directly from this section long press the task and you'll get the whole context menu in your screen.
All time
It is similar to that of the "All to-do's" section. It has time entries across all the projects and from all the users. By default it shows the time entries across all projects and people. You can filter the output using filtering options.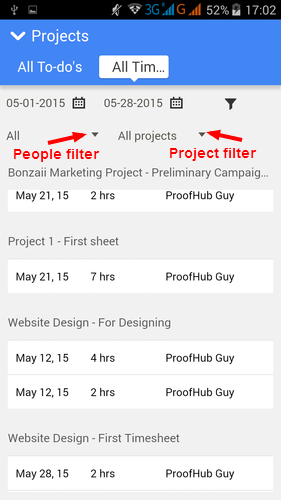 To edit and delete a time entry long press it and you'll get the options in the context menu.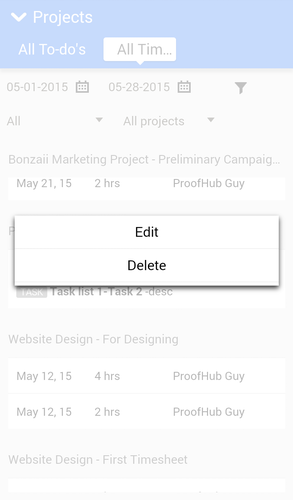 Navigating projects
To navigate projects tap on the button present near "All projects" and you'll get the list of all projects.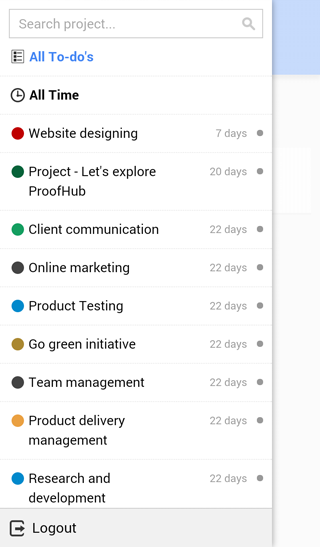 Need more help?
- Can't find the answer to your questions? Contact ProofHub Support
- Check our blog for the latest additions, updates and tips.