Trash
The items you'll delete from the account will be moved to trash. In case you or someone from your team has deleted anything from the account you can recover it easily from trash can.
Trash, available only in ultimate control plan, could also help you in tracking the activities if something important has gone missing from your account. It lists down items which have been deleted, date and the person who has deleted the item.

To open trash can, click on Manage account and then select Manage trashed item.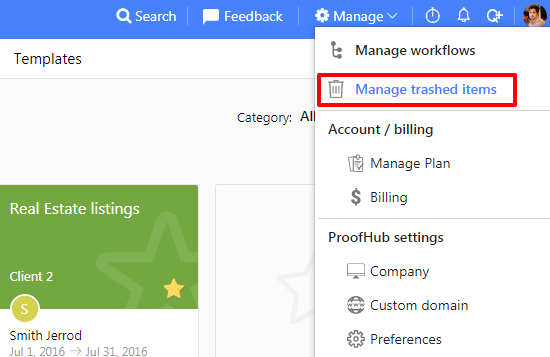 All items present in the trash will be grouped date wise.
To restore or delete permanently any item from trash, one can select the item from the checkbox and click on Restore or Delete forever to delete permanently.
Note: Items that have been in the trash for more than 15 days will be automatically deleted.
You can also select multiple items to perform actions. Either click on the checkbox present above the list to select all items or click on Empty trash.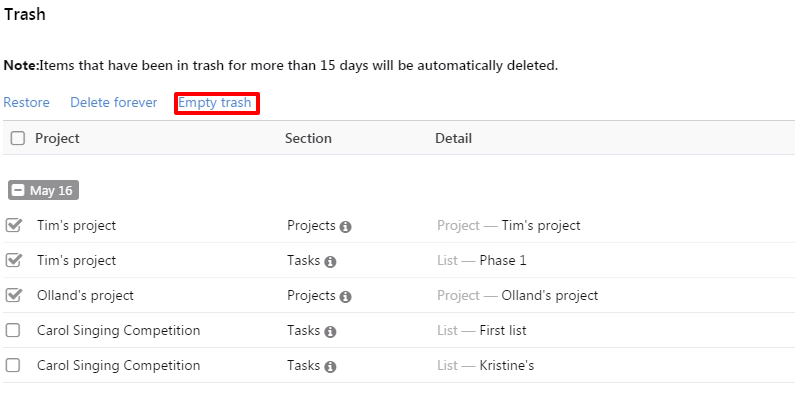 You can also filter the items from different sections of ProofHub. Click on Section filter and select the sections you want to display deleted items from.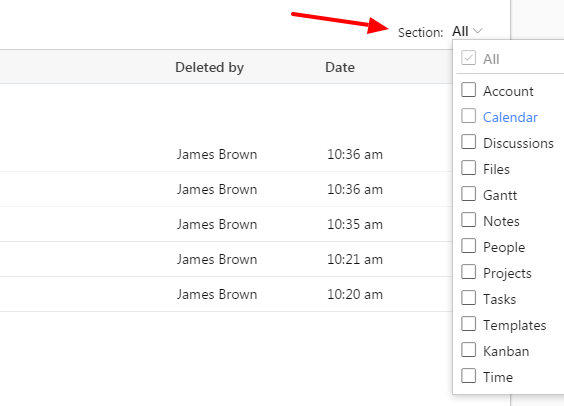 By default, only owner and admin has the access to Trash. Permission for Trash can be enabled from custom roles.
Note:
Items present in trash will occupy space allocated in the subscribed package.

Let's say you are deleting a Discussion topic and then the project has been deleted as well, you'll not be able to restore the discussion until you restore the project first.
Need more help?
- Can't find the answer to your questions? Contact ProofHub Support
- Check our blog for the latest additions, updates and tips.