Stickies
ProofHub lets you store any personal notes, birthday reminders, important phone calls, etc through stickies. You can store all your personal notes/ quick actionable items which are now easily accessible and are handy.
Add Stickies
Click on the Stickies icon on the right access bar on the dashboard.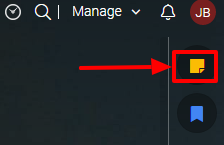 Click Add to add a new sticky.

You can add the description and the title. 

The title is not mandatory.

You can personalize the sticky note by choosing the color and format options from the panel.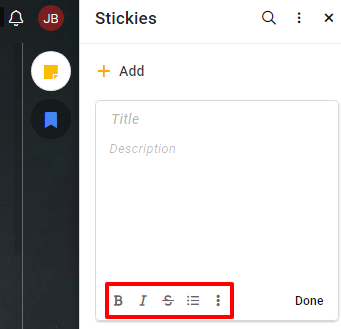 Sticky notes can be reordered by using the drag and drop feature.
Archive

your sticky to mark it completed from the context menu.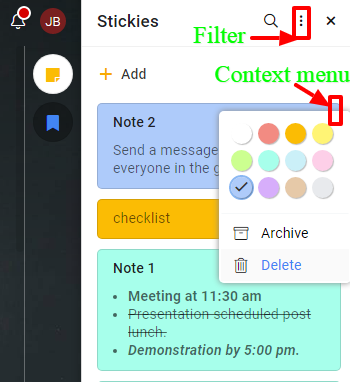 You can

access your archived stickies using the filter.
Search Bar
A sticky note can be searched by typing at least 3 characters from the title or the description.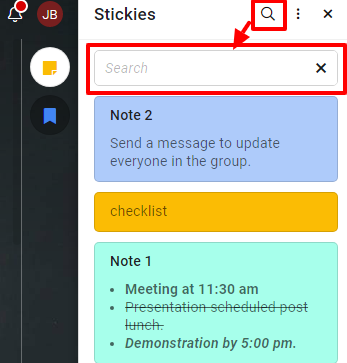 Notes:
All the existing active quickies will be replaced by stickies.

All the completed quickies are archived now. You can find those by using the Filter.
Bookmark
You can now bookmark your important topics, task lists, notebooks or notes, folder, and timesheets to easily accessing them and they will appear in the bookmark window.

Viewing bookmarked items
Following are the steps to view the items which you've bookmarked:
Click on the Bookmark icon.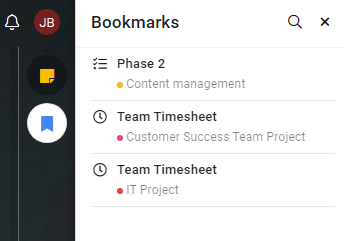 Removing a bookmarked item
Following are the steps to remove a bookmarked item:
Either right-click on a bookmarked item or click on the context menu icon present on its right.

Select Delete option.

Click Yes in the confirmation window to remove the bookmark.


Need more help?
- Can't find the answer to your questions? Contact ProofHub Support
- Check our blog for the latest additions, updates and tips.