Add Task lists and tasks
Add tasklists
Select a project.
Go to the Tasks section.

Click on the 

Add

 button at the top-left and select 

List

.



Add the following details in the next window:

Enter the Title of the list.
Associate workflow to the list.
Add Subscribers.
Mark the list private, if you want it to be visible only to the subscribers.
Check off the option Display in gantt to see all the tasks of this list in the Gantt.
Associate a milestone with the list.
To track time on the task, Enable time tracking.

Click Add

.
Note: The whole group can be assigned on the tasklist and tasks by just clicking on a group name.
Add tasks
Once the tasklist has been created you can proceed with adding tasks in three different ways:
The quick add method
Type the name of the task in the taskbar, pick the due date, attach files, add labels and assign people. This lets you add tasks in a quick succession as values you've entered will be stored for the next task.
Detailed method

Click on the

Add

button at the top-left and select

Task.
Add the following details in the new window:

Enter the Title and Description of the task. 
Select a Start date and Due date.
Add Assignees to the task.
Add Labels

.

Enter the Estimated time

.

Attach files





Click Add

Import task in bulk
You can also Import tasks in bulk in just one go.
Whenever a task or subtask is created, an automatic task ID is generated with it. It helps you to track task with the serial numbers. Also, it is easier to refer and share the task with serial numbers. Here's how it looks like: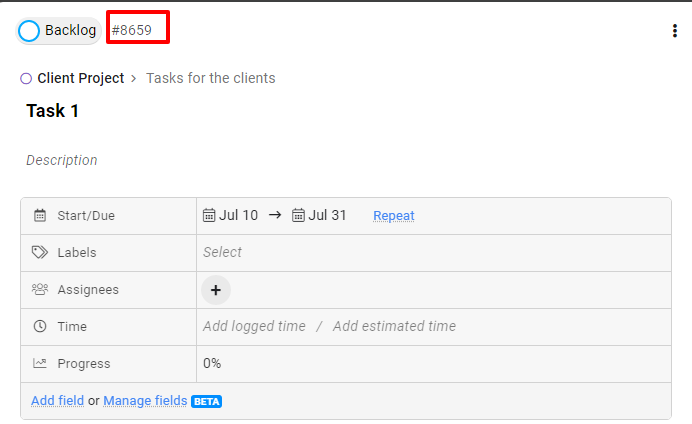 Note
Serial numbers are generated automatically.
The serial number of a deleted task is counted as well.
Subtasks have their independent serial numbers.
Need more help?
- Can't find the answer to your questions? Contact ProofHub Support
- Check our blog for the latest additions, updates and tips.