Timer
With automatic timer, you can easily track time spent on tasks without needing to log it manually. Once you have started the timer, it will keep running in the background even if you go to any other section or tab. Here's how it works:
Click the timer icon available on top bar and it will start recording the time.

Note:
You can anytime pause the timer or stop it in between.
How to log time tracked in timer:
Once you've stopped the timer, you'll be asked if you'd like to log the time tracked.
Discard it if you don't want to save the recorded time.
Choose Cancel if you want to save the time later.
Or click Yes, save to save the recorded time. Once you hit Yes, Add time window would open where you can select the project name, timesheet, task list and fill in all the other details like status, description etc. Now click Add button to save the time and it will be saved in Time section.

Track time from Task section:
Timer can also be started from Tasks section.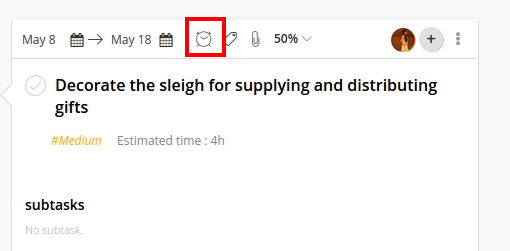 Note:
If global timer is running, then you won't be able to turn on the timer from Tasks section. You will only be able to enter time manually from Tasks.
And if global timer is not running, then go to any task for which you want to track time(make sure that enable time tracking checkbox is checked). Click the timer icon and choose Use timer option. Timer will start running and then you can stop it and save the time whenever you are done with the task.
Need more help?
- Can't find the answer to your questions? Contact ProofHub Support
- Check our blog for the latest additions, updates and tips.