Gantt Baseline
The ProofHub baseline feature will help the Project managers to track the progress of tasks. It enables the project manager to assess, at a glance, whether the Project is on the track and how far the project has deviated from the initial baseline set, and also if this represents an acceptable level of deviation.
How to configure the Gantt Baseline
The Person designated as the project manager will have access to set the baseline for a specific project.

Click on the baseline icon from the icon tray at the top right-hand side to set the baseline.

 


How to show the baseline
1. Once
the baseline is set successfully, one needs to click on the icon to show the baseline in the Gantt chart.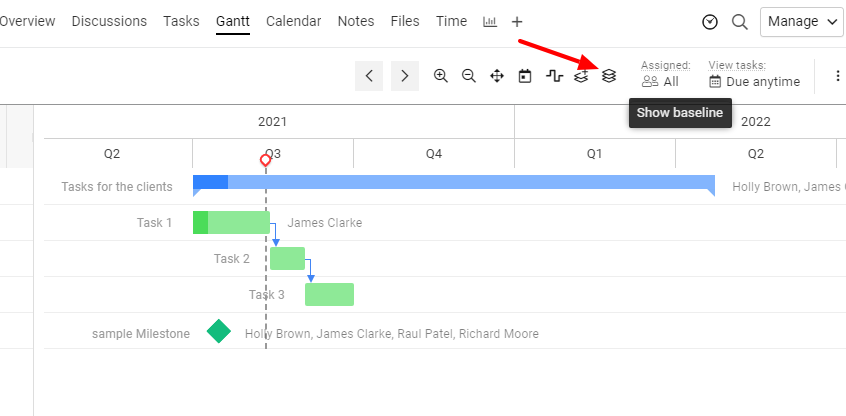 How to use the Baseline Feature 
Create your plan as per the schedule and set the baseline dates. 

The feature displays the current baseline start and end dates at the lower bar and the originally scheduled start and end dates at the upper bar. By comparing the difference between both dates, the project manager can plan the current progress and work schedule.

Once the baseline is set for the tasks, all the baseline dates get frozen and can be viewed in the baseline columns at the left.               

 
When the task is completed earlier or later than the actual due date, it will affect all the linked tasks immediately and you can compare the planned due date of the task with the actual completion date of the task.
Need more help?
- Can't find the answer to your questions? Contact ProofHub Support
- Check our blog for the latest additions, updates and tips.